Joe Biden won nine states and Bernie Sanders four with Maine still to be called as Democratic presidential hopefuls battled for delegates on Super Tuesday.
It was a night that exceeded expectations for the resurgent Biden, upsetting Sanders in Texas and outperforming polls across the board. The bright spot for Sanders was the delegate-rich California, which he was on course to win comfortably.
Fourteen states, plus American Samoa and Democrats Abroad, voted on a day that looks set to reshape the contest to become the Democratic nominee to take on Donald Trump in November's presidential election as a two-horse race.
Six to watch: What's at stake on Super Tuesday?
While the former vice president won the most states, the all-important delegates are allocated proportionately both statewide and by district, so the final count is likely to be close.
The Associated Press has so far allocated 438 delegates to Biden, 369 to Sanders, 45 to Elizabeth Warren, 39 to Michael Bloomberg and one for Tulsi Gabbard.
Candidates must hit a 15-percent threshold to win delegates, a bar Bloomberg and Warren, the other main contenders, struggled to reach at statewide level in some of Tuesday's contests. Both are likely to be considering their candidacies in the days ahead.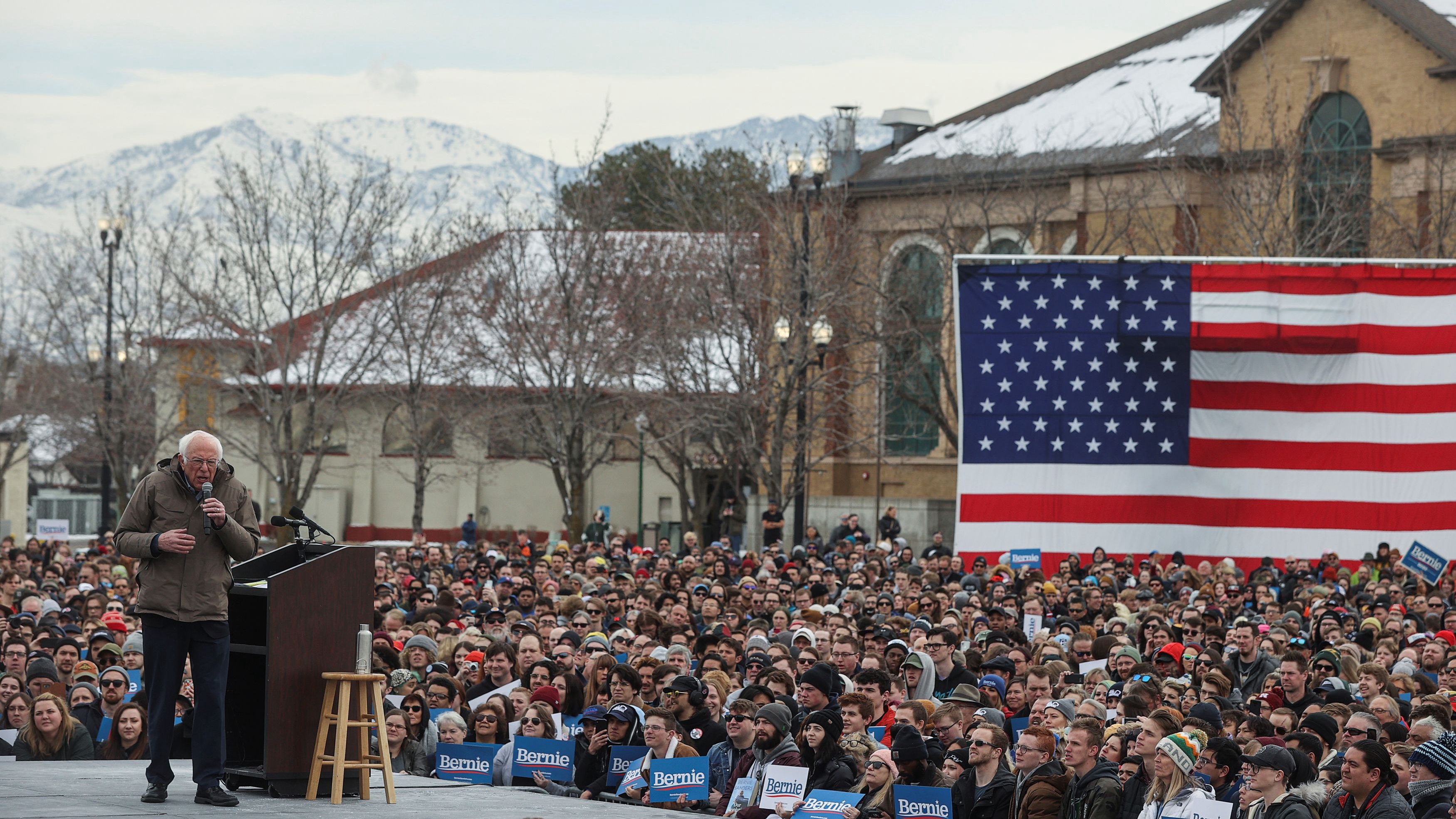 "It's a good night and it seems to be getting even better!" Biden told supporters in California. "They don't call it Super Tuesday for nothing!"
Biden, whose campaign was written off just days ago, won the battleground states of Texas, Virginia and North Carolina as well as Alabama, Oklahoma, Minnesota, Arkansas, Massachusetts and Tennessee. He is neck-and-neck with Sanders in Maine.
The victory in Texas was the biggest shock, and one which will hurt Sanders most. The 228 delegates will be shared fairly equally, possibly with some heading to Bloomberg, but the Vermont senator had been expected to win after spending and campaigning heavily in the state.
Biden, 77, has been boosted by the decisions of Pete Buttigieg and Amy Klobuchar to drop out of the race and give him their endorsements, as well as a big win in Saturday's South Carolina primary.
He showed strength with black and older voters, winning in the Northeast, the upper Midwest and sweeping the South. Turnout increased markedly, to his benefit, in Virginia and North Carolina.
Sanders targets Texas, California
Sanders won California, Colorado, Utah and Vermont, racking up delegates elsewhere but failing to meet expectations.
"Tonight I tell you with absolute confidence, we are going to win the Democratic nomination," Sanders told supporters. "And we are going to defeat the most dangerous president in the history of the country."
The 78-year-old is banking on a big win in California, which has 415 delegates, to make up for losses elsewhere and particularly the loss in Texas.
Sanders continued to win young voters in large numbers, but so far does not appear to have brought more people to the ballot box – a key part of his electability argument.
Bloomberg to reassess candidacy
Billionaire Bloomberg, who has spent around 500 million U.S. dollars on his campaign, won American Samoa and looks likely to finish second in California, but underperformed his polling in several other states.
His campaign team said he will reassess his candidacy on Wednesday when all the results are in, but in some states where he spent heavily he was struggling to even make the 15-percent threshold to win delegates.
Warren looked to have missed the threshold for delegates in several of the early states, and is on course to finish third in her home state of Massachusetts.
She will be under pressure to drop out of the race after another poor performance with voters.